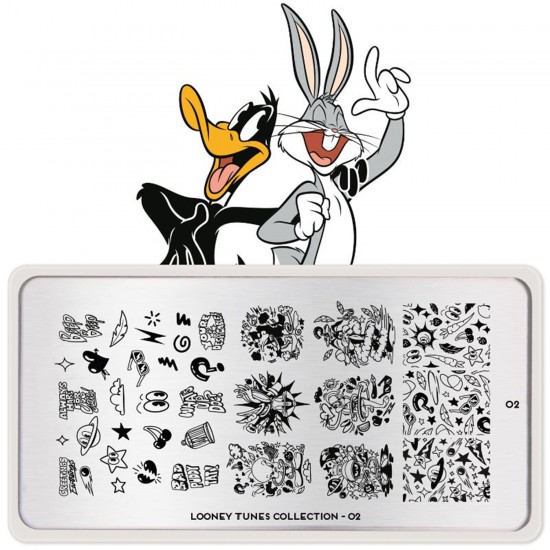 Looney Tunes 02
Stock:

In Stock

Model:

WBLT02

MPN:

5060988300016

MoYou London
This goofy collection inspired by Looney Tunes is full of illustrations of your favourite characters, comic style designs, funny quotes, and cartoony images. Have fun with Bugs and Lola Bunny, Tweety and Sylvester, Road Runner and Coyote, Marvin the Martian, Porky, Daffy, Speedy Gonzales and many more! Oh, and careful with ACME products! That's all nail-art folks!
The stainless steel plate measures 6.5 x 12.5 inches and features a vinyl backing for increased ease of use.
Each plate comes in its own branded protective case.
The designs are engraved on the image plate and covered with a protective film that must be removed before use.
Remove the blue protective film.
Apply the Nail Polish of your choice to the design you wish to stamp.
Remove the excess nail polish with a MoYou Scraper using a 45º angle.
Roll the MoYou Stamp over the selected design being careful not to use too much pressure.
Transfer the design by rolling the MoYou Stamp over the nail.
Apply a top coat for a longer lasting result.