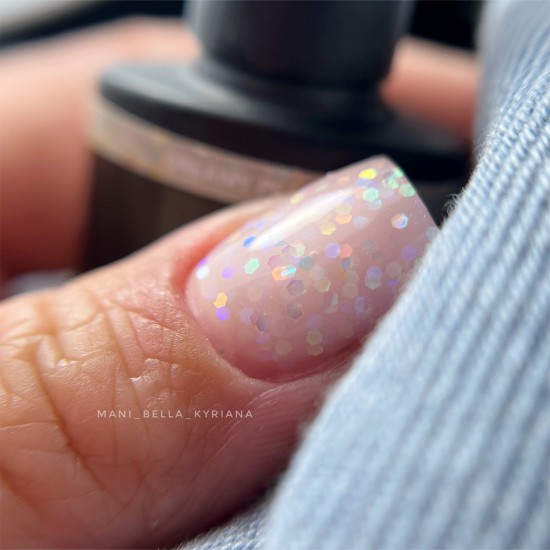 Rubber Base & Build DREAMY PEARL 7.5ml
Stock:

In Stock

Model:

2224615

MPN:

2102302224615

Abstract®
Abstract® Rubber Base & Build Gel is a soak-off base and builder gel. This 2-in-1 gel is intended to:
Strengthen natural nails;
Give structure to the natural nail;
Create short extensions using tips. Maximum extension of 0.5cm.
Rubber Base & Build has been specially developed for use in a gel polish environment. This 2-in-1 can be used on any type of nail plate, but has been specifically developed for treating thin, brittle nail plates as well as for treating problem nails such as spoon nails or oily nails. This gel is medium-flexible to the natural nail and guarantees superior adhesion. Easy to use by both beginners and experts.
An acidic primer has already been incorporated into Rubber Base & Build Gel, so it is UNNECESSARY to use Primer, Bonder or regular Rubber Base Gel after the Abstract® Prep Procedure.
Rubber Base & Build is NOT INTENDED to be used as a base gel in a hard gel or acrygum environment.
Abstract® Rubber Base & Build is Vegan & Cruelty-Free.
Product Characteristics
Acid / Non-acid base? Acid base.
Soakable? Yes.
Viscosity? Medium viscosity.
Self leveling? Easy leveling.
Adhesion? Superior adhesion.
Flexibility? Medium flexibility.
Impact resistance? Resistant.
Suitable nail length? Short.
Suitable for building? Yes.
Suitable for extensions? Tips only.
Pinchable? No.
Tech Tips!
The advice is to always use Rubber Base & Build CLEAR as a base layer.
This prevents color difference when touching up a set.
This prevents color or glitter from settling into the natural nail plate.
Use Rubber Base & Build as a base gel if you want to be able to soak off Abstract® Brush N' Color.
Rubber Base & Build does not need to be removed at every client visit. It can be touched up like a traditional gel.
The removal of Rubber Base & Build can be done by filing, milling or soak off removal.
Do you wish to apply a different brand of gel polish than Abstract® Brush N' Color (read: Hybrid Gel Polish)? Then make sure that the adhesive layer of the Rubber Base & Build is reduced to a minimum to prevent discolouration.
Ingredients
Ingredients
Polyacrylic Acid, HEMA, Hydroxycyclohexyl Phenyl Ketone, Trimethylbenzoyl Diphenylphosphine Oxide, Silica, Pigments +/- CI 45380, CI 15850, CI 77491, CI 15985, CI 77492, CI 77007, CI 77510, CI 77742, CI 77289, CI 77499, CI 77891, CI 77000, CI 77820.